Brand new Infinix Xband 3 Strap is available on various online stores to purchase. The features of this smart band have already discussed in the tech world. Colour display and customizable interfaces are remarkable features of this smart health band. If you are new to this band, you can have a look at the power on and off guide for Infinix Xband.
We have already talked about a couple of other Infinix Xband 3 features and today we are going to show you how to enable Alarm and notification feature on your Infinix Xband 3.
How to Setup Alarm Feature in Infinix Xband 3?
Don't think alarm in Infinix is a loud noise that wakes up you from sleep. Here alarm refers to a small vibration which you notice only if you wear the wrist band. Unlike clock or mobile alarms, you will not hear any sort of sound. One more thing you need to understand is that you can't access the alarm feature unless you install the Infinix life mobile app from either Apple App Store or from the Google Play Store. The band won't allow you to set the alarm or even change the time unless you install the app and connect it with your mobile.
Once you connect your Xband with your Mobile device,
Step 1:- Click on the Watch icon on the bottom of the Infinix Life App. Make sure your device is connected.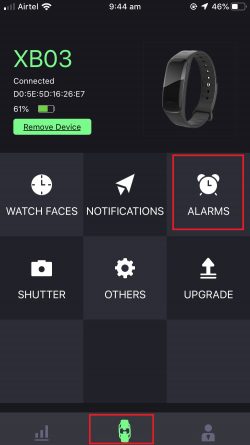 Step 2:- Click on the Alarms option.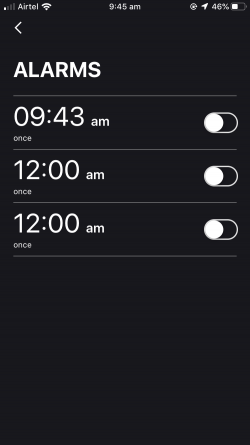 Step 3:- There you can see the option to setup alarm. Click on the alarm time to edit or set a new alarm.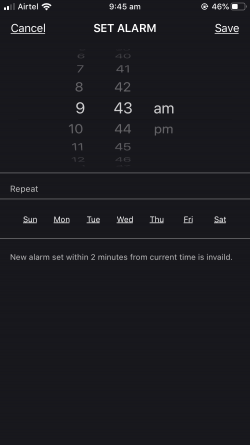 NB:- New Alarm Set within 22 minutes from current time is invalid. That means if you want to test the alarm, please provide a time 2 minutes later.
How to Setup Notification on Infinix Xband 3 Strap?
Setting up the notification feature is the same as setting up an alarm. This feature allows you to read your phone notification on your Xband. To achieve this feature,
Step 1:- Connect your Xband with your mobile through BlueTooth. If you are the first time, you need to pair both the devices.
Step 2:- Open the Infinix Life mobile app and click on the Watch icon at the bottom.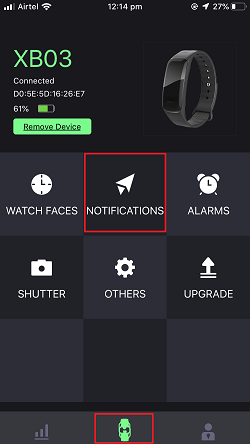 Step 3:- There you can see an icon named notification. Click on the icon. You now see all the installed apps on your mobile.
Step 4:- Inside the notification menu, you will see all your installed application. Right to the app name, you can see a button that allows you to sync the notification with the band. Just Turn On or Turn Off the sync button to specify what all notifications you need to get on your Xband.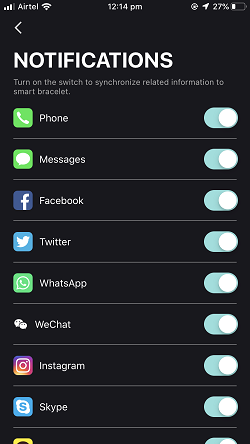 NB:- Both Alarm and Notification will be notified in the form of a vibration. There will be no specific sound for notification.
Conclusion
Setting up Alarm and Notification features are very helpful features of Xband 3. But you cannot do it without connecting with your mobile device. I wish these features should be able to set up without pairing with a mobile device. Anyway, connect your Xband with your mobile and set up alarm and notification features as mentioned above.
If you have any questions related to Infinix Xband 3 Strap, please comment it below. We can solve any queries related to Xband 3.